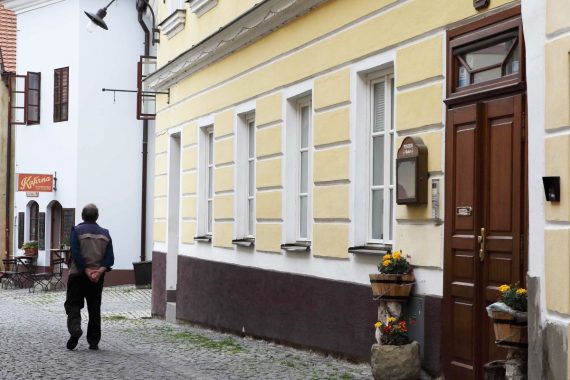 WARNING: Due to the closed communication from Plešivecké Square, access to the penzion is possible only from one side, towards the street 5.května. Thank you for your understanding. Pension Weber
Welcome to the website of our pension,
located in newly, elegantly reconstructed building in picturesque heart of the city of Český Krumlov.
In our family run pension, a friendly atmospehere and comfort meet with aesthetics of times long passed by. Even though we are located no more than 5 minutes walking from Český Krumlov's central square, you can easily park your car in our lockable garage, or, after an agreement, you can use parking places located directly in front of our facility – both free of charge. In near vicinity of our pension you can find a café Kafírna, where you can not only enjoy comfortable seating and a cup of coffee, but also have a nice breakfast. For lunch and dinner, we recommend an italian place nearby – Cosa Vostra restaurant.
We offer to our guests two parking spaces right in front the house. Parking place payed 200 CZK per a night and it is necessary to book it in advance. In other cases, it is possible to park on a paid car park in the vicinity of 100m from the pension according to the free capacity. To guarantee a parking space, you can use the P3 city parking within a walking distance of 10 minutes from the house. P3 parking is charged with parking cards, which you can buy at our pension or in the Infocenter on the main square.
More Info